After my last trip to Japan in 2013, I detailed all the fun I had finding all the new Sailor Moon merch in this post. Two years later, with two musicals and Sailor Moon Crystal under our belts, what was it like for a Moonie visiting Japan? Still gobs of fun, but different as well!
This time around, I didn't just bring myself to the Sailor Moon merch, but I brought the Sailor Moon merch to Japan! I decide to carry around my Sailor Moon drawbag which surprised many Japanese people. I overheard several surprised whispers, "Sailor Moon!" and in one case, one woman in Nara asked me if I liked Sailor Moon. I also brought along my Sailor Moon dress from Hot Topic and wore it the day of the musical. The barista at Starbucks thought it was cute!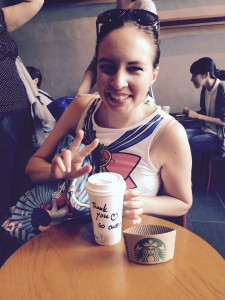 But I suppose I'm getting a bit ahead of myself. Before the musical arrived, there were many other adventures to be had! One of the first stops was the pop up store at Tokyu Hands in Shibuya.
I took some time to pose with the life-size cardboard Sailor Moon. The pop up store itself was pretty small–it had a few gashapon machines and stationary.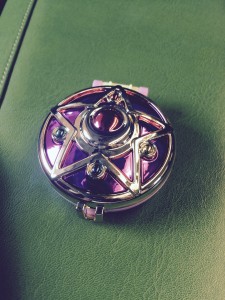 I couldn't resist the gashapon machines of course! For extra luck, I had my youngest brother turn the dial on the machine. Not my favorite compact, but it's shiny, so it's all good!
It was really great seeing the products in person. These Tuxedo Mask and Sailor Moon notepads are really cool! Each notepad comes with several different catchphrases. I was also enamored by these shiny postcards. Unfortunately, only the top postcard is shiny. I spent about $30 on this:
Since we were at Shibuya, my fiancé really wanted to check out the famous Shibuya 109 store. Unfortunately for him, this is also a must-see for any Sailor Moon fan! It had all the stores that have been doing Sailor Moon collaborations. Samantha Vega, Peach John, Honey Salon–there was even a Halloween store selling Sailor Moon costumes!
The Peach John store had all the Sailor Moon lingerie and I couldn't resist trying it on. I opted to try on Sailor Mars. In the line for the fitting rooms, two Japanese girls were also holding the lingerie–one Venus and one Mars. So, it seems the lingerie are pretty popular. I had never shopped on Peach John before and it was a bit of a strange experience–the sales associate only gave me the bra to try on and then later returned, not with the skirt, but with a rug for me to stand on. I am not sure what the purpose of this rug was. I think she forgot about me because I waited a really long time before I got up the courage to flag the sales girl down. I ended up purchasing the medium Sailor Mars lingerie. I also apologized profusely to my brothers and fiancé for the long wait! ;_;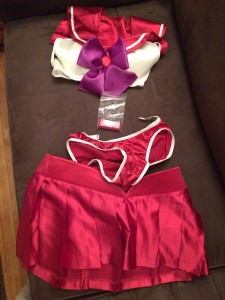 My next goal was to buy some Sailor Moon Manga artbooks at Nakano Broadway like I did last time. However, for some reason I thought this was at Ikebukuro and not, duh, Nakano. What was I thinking?! Anyways, we stopped at the Ikebukuro Animate store and BOY WAS THAT AN EXPERIENCE. It was like 13 floors of anime and the store was full, FULL of girls! I had never seen so many lady otaku before! Of course, I knew that Animate only carries merch for the latest anime, but I was still shocked that I didn't find any Sailor Moon merch. The only merch I found was two gashapon machines. I had my middle brother take a stab at this one and his luck got me this:
The next day we managed to get out to Nakano Broadway. However, I think I made a mistake yet again by going on a Sunday. The whole top floor where I purchased my artbooks previously was closed. I went to the main bookstore, but the sales girl said they didn't have any of the artbooks. I was thoroughly bummed; perhaps I should have taken my more experienced friend along. That said, with the whole re-launch, I can imagine merch is in higher demand whereas in 2013, people didn't know about it yet. Moreover, it's much cheaper just to buy the new merch as it comes out rather than buying it from these resale shops. Anyway, I did manage to find a store that had a bunch of Sailor Moon goods, but most of their goods were recent merch. They did have some older merch on display, but they weren't for sale. (They had a 90s manga calendar and I wanted it soooooooooo badly!) I did end up buying some loose gashapon crisis compacts. My young brother bought me the gashapon compact mirror and a minaturely tablet as belated birthday gifts.
The next day, after the seeing the Sailor Moon musical, Un Nouveau Voyage, we wandered around Shibuya to find a place to eat. Along the way, we randomly ran into the It's Demo store. I was ecstatic!!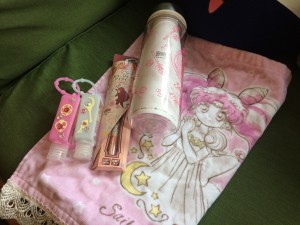 I made a beeline for the sanitizers. Seriously, they are the prettiest hand sanitizers you'll ever own! They even have rhinestones on the sides! There were five different options, but I decided upon the Crystal Star version (the pink one) and the Princess Serenity version (the white one). I hadn't seen the tumbler before, but I decided to get it because my friends have been telling me I buy too many plastic bottles of water. This tumbler has definitely gotten me to drink more water. It even comes with this nifty little spout for easy drinking.
I also decided to buy a mini towel since I felt thoroughly shamed by my brother–I had lived in Japan for two years and never carried around a mini towel, and lo behold, my brother brings his own towel on his first visit! I had never carried one around because I thought it was stupid and I'm stubborn, but honestly, it's a good idea. I don't own a lot of Chibiusa merch, so I thought this was a good opportunity to remedy that.
Finally, they had exactly one eyeliner left and it was Sailor Mars. I had no idea what I was going to do with red eyeliner, but I figured why not? I spent about $50 at It's Demo. After some tasty sushi that was delivered by a touchpad, we made our way to dessert at the AniOn Sailor Moon cafe in Shinjuku.
It was a little tricky to find; it was a few streets away from the train station–but we found it. A bunch of Moonies decided to go after the musical and with our Japanese friends' help, we got reservations for 10pm—a time that wasn't available on the website. In retrospect, I think it would have been better to go during the day because by that time my brothers and myself were pretty tired from jet lag. That said, it was super fun! There weren't too many people there besides our big huge group of gaijin. A young Japanese women stood in the radio booth, spinning different Sailor Moon songs. She was very cute; she sang along to most of the songs. I think at one point she apologized to us for not being able to speak English, but we didn't care! I was able to request one of my favorite songs, Sailor Stars Song, via twitter and she played it! Apparently, it's ranked #1!
But of course, the real reason we were there were for the desserts. We asked our waiter in Japanese what was the most popular dessert and he said it was the Black Lady dessert. So, I went ahead and got the Sailor Moon Drink and the Black Lady Dessert.
And I'm happy to report the Black Lady dessert was AWESOME. Honestly, I had low expectations for these desserts and happily, I was proven wrong. They definitely tasted like a gourmet dessert instead of something cheap. The only drawback was that both desserts were very sweet and put together, it was too much. I would recommend getting one or the other. They were really great though! Finally, a shout out needs to go our waiter at the cafe. I don't think he spoke a lick of English, but he didn't bat an eye at our crappy Japanese and he gave us great service. Thank you waiter-san!
To my surprise, my fiancé and brothers really enjoyed shopping in Japan. They wanted to stop in every cute shop, which, if you've been to Japan, you'd know there's a cute shop every five feet! After discovering this, I knew I had to take them to the one and only Don Quixote Mega Store in Asakusa. What's Don Quixote? It's a discount retail store that sells everything and anything. You can find the most crazy, random stuff there. It's an experience in itself–I highly recommend it!
I found several discounted Sailor Moon brown eyeliners next to some Lum mascara. In the "Character Goods" aisle, I found the Chibi Moon compact paper clips. I thought it was great to find cheap Sailor Moon merch at Don Quixote. It really showed that Sailor Moon's return isn't just for older super fans who will buy expensive merch, but for the casual fan too. It's still something that's instantly recognizable in Japanese pop culture.
Our stay in Tokyo had come to an end, but our journey would continue in Kyoto. Kyoto is my favorite place in Japan, but it's not exactly known for the being the Mecca of Anime. There's an Animate in downtown Kyoto, but it's not very big. They also have two Book Offs, but their offerings have been pretty slim when it comes to Sailor Moon. So, you can imagine my surprise to find the Sailor Moon Ichiban Kuji at the Mini Stop down the street from our hostel! I was ecstatic!
Urgh, I could have won so much! I totally wanted the Luna plush, the glasses and the pillow. But alas, at 648 yen per play, I decided to only play once. I ended up with the E prize. Boo. I think you can straight up buy the merchandise in some cases, but I wanted to win these things fair and square.
In downtown Kyoto, I stopped by one of my favorite stores in Japan, called Loft. It's kind of like Target. In their "Character Goods" section, I found some Sailor Moon stationary and the way cool chopsticks. It was so funny to see the chopsticks there because they were so hard to get when they first came out! It was a bit of a relief to see them there; these things are so popular they are even selling them at Loft!
We walked pass a manga store where they had a huge Sailor Moon manga poster.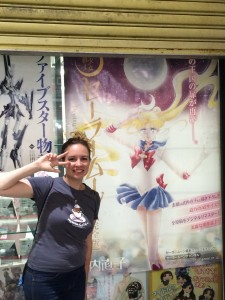 We also met up with one of my former colleagues. She married a Japanese dude and has two young daughters. She told her youngest daughter, who is about five years old, that I was a big Sailor Moon fan. Her daughter played a Sailor Moon gashapon machine and won me this charm:
Her mom told me she was a bit disappointed because she wanted to win me a different charm. Such it is with gashapon machines, right? It's the thought that counts!
And that's it for this trip! Our 7 day adventure in Japan came to a close too quickly. I was thinking that this would be my last trip to Japan for a good while, but I dunno, now I really want to make it there for the Sailor Stars musical! I guess we shall see!