Ever since the demise of AnimeFest, I've been patiently waiting for a new anime-centric con to take its place. NYCC has become way overcrowded and anime's presence there has diminished, so it's been quite a relief that Anime NYC has finally made the scene.
In it's first year, Anime NYC took over a third of the Javits center's exhibition hall as well as the entire River Pavillon for the Artist Alley. Over 20,000 people attended and while it sometimes felt crowded in the dealer's room, overall, it didn't feel too overwhelming.
Unfortunately, I wasn't able to attend Friday night when they had their live Anime Diva's concert. I was aiming to arrive early for the Sailor Moon panel on Saturday, unfortunately, I missed it because the 7 train wasn't running to 34th street. I was really bummed about this because I don't normally have a reason to go to that stop, and here I had a very good reason, and it wasn't running. Transportation continued to be a headache for the whole weekend. Not sure if there's Anime NYC can do about that, but you'd think NYC would want that working during a convention.
On the positive side, after several years of trying to get a panel at AnimeFest and NYCC, I finally got a panel accepted at AnimeNYC–Japanese Feminism 101. I was thrilled to be able to present on Saturday. The panel went really smoothly–we had a full house!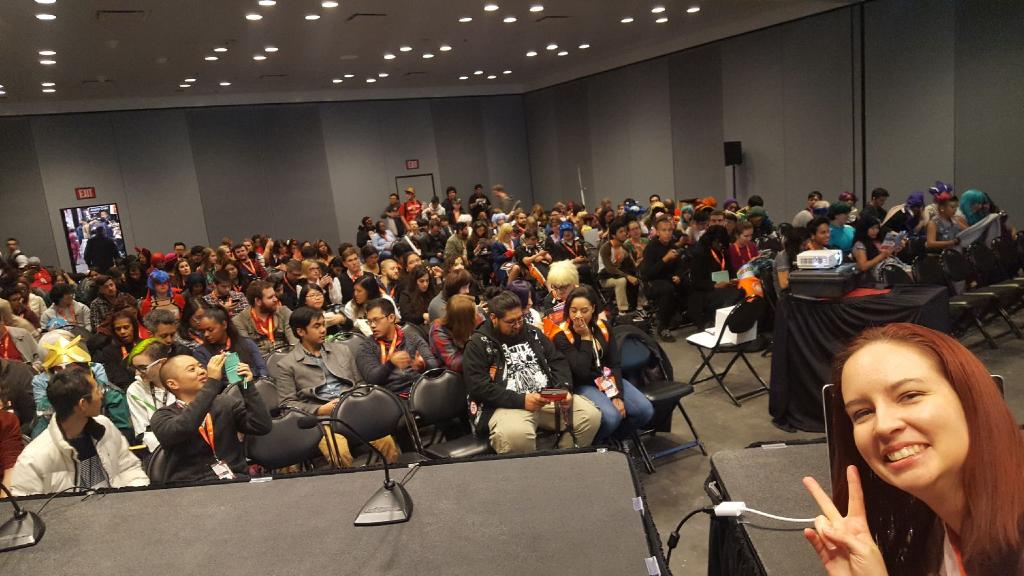 Everyone asked really great questions. Many of the questions revolved around LGBT rights in Japan. I didn't cover this topic too much in my presentation, but I'll have to do more for the future. I got lots of great feedback as well. One person recommended Princess Principal and another recommended Yuri Kuma. I also confessed that I've only seen a few episodes of Utena. I need to rectify this very soon! And lastly, one attendee recommended I talk about the concept of "yamato nadeshiko"aka Japanese feminine ideal in the future. If you missed my panel, never fear! I made a few connections at the convention, so I may present it in the near future. Stay tuned!
I had brought some flyers with book recommendations. I didn't bring enough and they went really quickly. Here are the books that were on the list:
In the Beginning, Woman Was the Sun: The Autobiography of a Japanese Feminist by

Raichō Hiratsuka

,

Teruko Craig

(Translator) ISBN: 978-0231138123
2) The Bluestockings of Japan: New Woman Essays and Fiction from Seitô, 1911–16 by Jan Bardsley ISBN-13:978-1929280452
3) The Only Woman in the Room: A Memoir of Japan, Human Rights, and the Arts by Beate Sirota Gordon ISBN: 978-0226132518
4) Last Boat to Yokohama: The Life and Legacy of Beate Sirota Gordon by Nassrine Azimi, Michel Wasserman ISBN: 978-1941110188
5) The Wonderful World of Sazae-San (Vol. 1) by Machiko Hasegawa ISBN-13: 978-4770020758
6) What is Obscenity?: The Story of a Good For Nothing Artist and her Pussy by Rokudenashiko ISBN: 978-1927668313
As the logistical side of things, the tech people and room manager were very helpful and courteous. However, the one improvement I would like to see for future conventions is a portable microphone or a free standing mic so everyone can hear the attendees' questions. It was really hard to remember to repeat the question.
After that, I browsed the dealer's room–I picked up this figure from the Anime Castle booth:
I was really excited about the Kinokuniya booth, but I found their offerings lackluster. It seemed like it was mostly artbooks and magazines from anime I didn't recognize. However, they were selling those way cool Sailor Moon shirts from VIZ so I picked up one of those!
In this day and age of conventions, I usually don't find dealers rooms as excited as they used to be, but I did manage to find one booth that consisted of Japan musical merch. They had programs and photo sets from all the recent anime musicals. They were rather expensive, so I didn't buy anything, but I thought it was super cool.
I wasn't expecting to go on Sunday, but I was able to swing by. One of my favorite panelists ever, Nina, did a Magical Girls Around the World panel and it was fantastic as always. Directly after her panel was the Ramen Summit with Ivan Orkin, Shigetoshi "Jack" Nakamura and Sun Noodle's Kenshiro Uki.
They commented that ramen in New York City was mostly focused on tonkotsu ramen and their mission was to bring more varieties of ramen to NYC and do them well. I've never been to Ivan Ramen, but it's on my list now!
And that's about it! I would definitely consider doing a panel at Anime NYC again. They'll be back next year from November 17th – 19th 2017!
Til then, here's some awesome Sailor Moon cosplay!