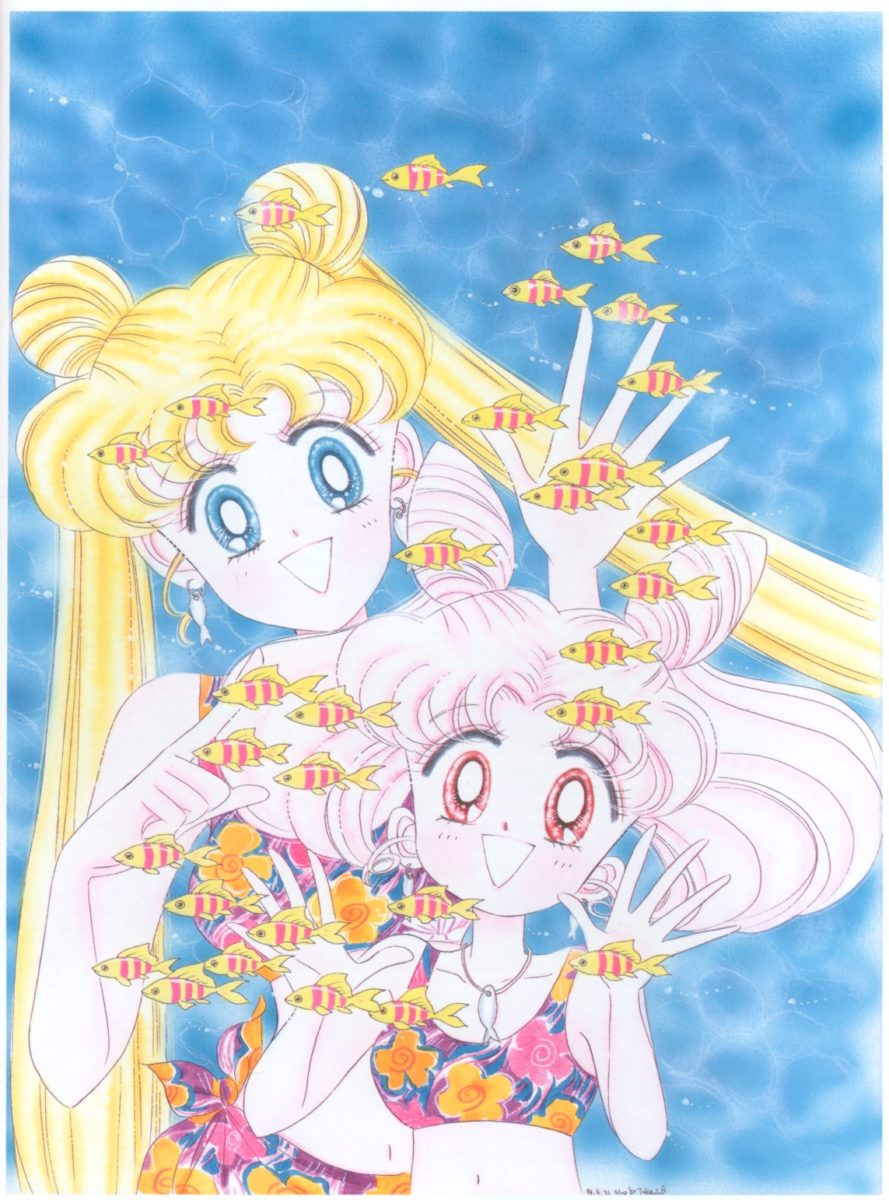 When Kodansha re-released the Sailor Moon manga in 2013, I was ecstatic. I eagerly purchased the new volumes even though I owned all the old Tokyopop editions. Based on the second generation format of collected volume that were released in Japan in 2003, in this edition, all of the side stories were taken out of old volumes and collected in two separate volumes–Sailor Moon Short Stories 1 and 2.
It had been a while since I had read the manga, and I had mostly forgotten about the side stories. I was eager to revisit them with some fresh eyes. While most of them were as fun as I had remembered, it was Chibi-usa's Picture Diary #2: Beware of Tanabata that left me the most confused and frustrated.
The story of Beware of Tanabata should be a straight forward episode of Sailor Moon, where Sailor Chibi Moon is the hero of the day and we learn a bit more about the popular Japanese festival, Tanabata. Instead, it's a hot mess of gender roles and expectations. I'm not sure exactly what Naoko Takeuchi was going for, but I'm going to try to. So, let's start with the time and place of the story, Tanabata.

Tanabata is an incredibly popular festival in Japan that occurs on July 7th. During the festival, both children and adults write wishes on colorful pieces of paper and tie them to bamboo branches. The festival celebrates an old Chinese folktale of the stars Vega and Altair whose love was forbidden. In the Japanese version, we have a few more details. A young weaving woman, Shokujo, was married to a cowherder, Kengyu. However, after they were married, they shirked their chores, so Shokujo's father separated them, only allowing them to meet once a year. It's a story that seems to talk about the tension between love and duty, a theme that runs through Sailor Moon itself. In other stories in Sailor Moon the guardians choose duty over love, but this story is much more complicated.
The story opens with Usagi and Chibiusa receiving gifts for their birthdays on June 30th. Tanabata is only a week away, so Chibiusa and her classmates have written their wishes on paper and attached them to bamboo tree. Chibiusa and her friends run into Haruka and Michiru on the street while she's carrying the tree. Haruka and Michiru remark with displeasure that all the wishes involve getting the love of boys.
A mysterious figure suddenly appears explaining the story of Tanabata. Chibiusa's friends react with disgust at the story–one says she'd never stay with a guy who would only see her once a year. Chibiusa's friend Momo agrees and adds you need a husband with lots of money. Haruka, Michiru and the mysterious figure all groan. I'm guessing they are all groaning because they know there's more to life than boys and money.
Back at the Sailor Moon headquarters, the inner guardians are explaining the Tanabata legend to Chibiusa and Diana. Chibiusa and Diana both wonder how Shokujo and Kengyu can maintain their long distance relationship. Chibiusa declares she could never do a long distance relationship since it would breed mistrust. Ami and Rei are taken aback by Chibiusa's declaration, saying that it's just a legend.
Later that week, Chibiusa wakes up in the middle of the night, with her watch that she received from the mysterious figure telling her to go to Ichinohashi Park. At the park, Chibiusa finds the the mysterious figure telling a crowd of young women that "The Age of Autonomous Woman is upon us! Let us hold jobs and careers, be independent, and live to work! Menfolk cannot be trusted! We don't need men! We can survive and get by fine without men in our lives!" (Kodansha, page 43) Chibiusa thinks she's brainwashing the young women and transforms into Sailor Chibi Moon.
It's really odd seeing the idea female autonomy looked down upon in Sailor Moon, because that's basically the whole motivation of the sailor guardians. Most of the sailor guardians have put duty before love. In Ami's First Love, we see that Ami is allergic to love letters. In Casablanca Memory, Rei declares that her mission and her friends are more important than falling in love. In the Sailor V manga, Kaitou Ace curses Minako saying that she will be always unlucky in love, so she doesn't have to choose between duty and love. That said, all of those stories appear after Beware of Tanabata, so perhaps Naoko is working out some conflicting feelings in this story. After all, the famous scene where Rei and Minako declare they don't need men doesn't occur until the final arc of the series.
But back to Beware of Tanabata. Sailor Chibi Moon finally confronts the mysterious figure and here's where one of the most awkward scenes in the whole manga occur. Sailor Chibi Moon shouts "You're mistaken, lady! Without men, there won't be offspring. Women can't just live on by themselves!" (Kodansha, page 44) Which, I just want to say, that yes, Chibi Moon, women can absolutely 1) live happily without men 2) have kids without men 3) and yes, the human race could potentially end if women don't have babies, so society should really get it's shit together.
However, I do want to give some props to Chibi Moon in this scene. She does actually make a good point, in a way–how useful is the story of Tanabata in people's every day lives? If marriage is about having babies, the odds of Shokujo getting pregnant after one night per year is slim to none. It's too bad that in this scene Chibi Moon is confronting Shokujo–she should really confront Shokujo's father. It's Shokujo's father who decides to separate Shokujo and Kengyu and allow them to meet only once a year.
So after we have one of the most awkward scenes of all of Sailor Moon, we get another one. In next page the cloaked figured unveils herself, claiming to be Sailor Moon. Sailor Chibi Moon immediately calls bullshit….by fat shaming her.
The Sailor Moon imposter turns out to be Shokujo herself. She's revealed to be a deeply insecure person. In her unhappiness with working all the time, she just eats and watches TV. She tells Sailor Chibi Moon that her husband saw her once without her makeup once and this is the reason why they haven't seen each other on Tanabata over the last few years. Just as Chibiusa has suspected, Shokujo's long distance relationship is full of mistrust. Baddies Zeta and Epsilon stoke Shojoku's insecurities before Sailor Chibi Moon takes them out with Pink Sugar Heart Attack.
In the final pages of the story, Kengyu appears, reassuring Shojoku that after 3,000 years, of course he still loves her. He also razzes her in the final page–saying that he had to do it again, he'd marry someone cuter, but a "steady-headed woman is best for a wife." (Kodansha, page 49) Shokujo's slaps him playfully in response. I suspect we're supposed to take this scene as comical and leave us feeling that everything is ok in their relationship. However, the scene still leaves me uneasy.
The story ends with Chibiusa writing in her diary that she hopes for the best for Shokujo and Kengyu. She writes that she  would "rather the people I love be at my side every day" meaning that she couldn't do a long distance relationship like Shokujo and Kengyu. Perhaps that's the overall moral of the story: the story of Tanabata isn't romantic. Society forcing you to choose duty over love does not make anyone happy. Long distance relationships suck.
However, even knowing that, this story leaves me feeling very conflicted. What do you think about Beware of Tanabata?