Sailor Moon has gay villains and lesbian heroes, but what about trans characters?
There aren't any truly trans characters in Sailor Moon. However, in the final season of the anime, we meet the Sailor Starlights who are female, but take on male bodies once they arrive on Earth. We even see their male bodies change to female when they transform into the Sailor Starlights. Again, the Sailor Starlights aren't trans, but I think there are some interesting parallels to be drawn. For example, in episode 189 of the anime, the sailor guardians are shocked to learn that the members of their favorite boy band are the Sailor Starlights. This means that the cute boys they drool over are also women. This leads to fascinating scene where the sailor guardians have to confront their heterosexuality and what it means when a person's body doesn't meet your gender expectations. I think this scene does a somewhat decent job of showing that trans people should be treated with dignity.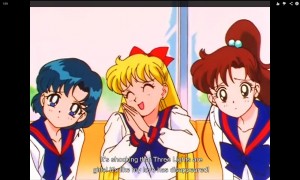 Minako straight up declares that her love for the Three Lights has completely disappeared. (Although do we really believe this? HAHA. No!) And while Minako seems silly, it is definitely a better way to deal with this new information rather than, say, acting violent. In fact, some people murder trans people when they discover their past and try to excuse it because they "panicked." (Well, that's what they claim at least.) Known as the "trans panic defense" these defenses have actually been used during the murder trials of Gwen Araujo and Angie Zapatas. Recently, the American Bar Association has passed a resolution to urge national and local governments to enact laws prohibiting the use of this defense. Cuz, you know, as Minako demonstrates, there are far more reasonable ways of dealing with feelings that conflict with your heterosexuality.
Makoto chimes in that "Taiki is Taiki" and they should hang out with them like they did before. It's interesting Makoto says this because she is probably the one who can most sympathize with the situation. People think because she's strong and can kick serious butt that she's not feminine—yet, she is. She can recognize that they are still the same people no matter what kind of genitals or hormones they have.
Luna mentions that the Starlights must have had a good reason to hide their identities. Although, "hide" isn't the best way to describe the trans community's needs, having control over their medical and personal information is incredibly important. As I described above, trans people can experience violence when another person becomes aware of their past. Because of that, being able to live their lives as their self-identified gender is a matter of life or death. For example, if the gender on your your passport doesn't match your gender expression, you are vulnerable to transphobic violence at the hands of border police. Luckily, more and more countries like the United States, are allowing a trans person's gender to match their passport even without surgery. (Some trans people are perfectly happy with receiving the appropriate hormones and would prefer to have surgery at a later date, if at all.) But back to Luna, I really like how she gives the Starlights the benefit of the doubt–there was a reason why Starlights didn't reveal this information and it's a good reason. Often, people who are transphobic feel that trans people are "deceiving" them by withholding this information. Quite frankly, trans people don't owe anyone an explanation! And they have a perfectly good reason not to!
But even better yet, Ami helpfully adds that the sailor guardians didn't tell the Starlights their identities either. This is a great point—even non trans or cisgendered people like the guardians don't tell others everything either! In other words, this episode shows that trans people are like everyone else and should be treated with the same humanity and dignity. Trans people are not evil deceivers out to trick people.
Finally, we see Usagi's reaction. (Sorry, I don't have a fancy screen cap for her!) Usagi seems really upset and shocked by what has happened. It's unclear whether she's referring to the realization that the Three Lights are the Starlights or that they are both men and women. Either way, Usagi is considerably upset that Seiya did not inform her beforehand. She assumes that Seiya should have told her. This is ironic because Usagi obviously didn't tell Seiya about being Sailor Moon, and heck, she was even forced to transform in front of Mamoru in season one! While Usagi has matured throughout the series, I think this scene shows that she still has some growing up to do.
Despite Usagi's reaction in this scene, Ami, Minako, Luna and Makoto show how to give trans people the benefit of the doubt and deal with situations like this in a way that respects trans people.