After my last trip to Japan in 2013, I detailed all the fun I had finding all the new Sailor Moon merch in this post. Two years later, with two musicals and Sailor Moon Crystal under our belts, what was it like for a Moonie visiting Japan? Still gobs of fun, but different as well!
This time around, I didn't just bring myself to the Sailor Moon merch, but I brought the Sailor Moon merch to Japan! I decide to carry around my Sailor Moon drawbag which surprised many Japanese people. I overheard several surprised whispers, "Sailor Moon!" and in one case, one woman in Nara asked me if I liked Sailor Moon. I also brought along my Sailor Moon dress from Hot Topic and wore it the day of the musical. The barista at Starbucks thought it was cute!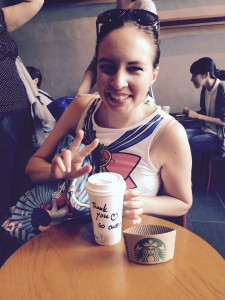 But I suppose I'm getting a bit ahead of myself. Before the musical arrived, there were many other adventures to be had! One of the first stops was the pop up store at Tokyu Hands in Shibuya.