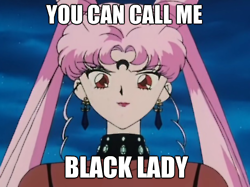 Via tara-senpai
The English dub of Sailor Moon produced by DiC Entertainment made numerous changes that fans were not happy with. Genders were switched, gay love was erased, and whole episodes cut or spliced together–the list can go on and on. But there were a few small changes that no one really talks about that I think should be given its due credit. The Sailor Moon English dub goes out of its way to eliminate the notion that the words "dark" and "black" should be equated with evil.
In the first season of the manga and anime, the sailor guardians battle the Dark Kingdom. Really, in the Sailor Moon universe, if an organization includes the word "dark" in its name, it really is evil. For example, Sailor V fights against the Dark Agency, and Zoicite plants energy sucking videos at Dark Video (Tokyopop translation) or "Rental Shop Dark" (Kodansha translation).
However, in the English dub, the Dark Kingdom was renamed the Negaverse. Instead of relying on the dichotomy of light vs. dark to signify the bad guys, the dub bases the name off the word "negative." This is a word that connotes the opposite of good, but does not have any association with color. This theme carried over to the Black Moon Clan, or the Negamoon Family in the second season.
In the second season, Sailor Moon's future daughter, Chibiusa (or, Rini, in the English dub) becomes evil and assumes the name Black Lady. I wish color was just a color, but we do use these words to describe skin color–we refer to "dark skin" and "light skin" as well as describing people as "black" and "white." We even refer to black women as black ladies. Other Sailor Moon fans have poked fun at this name and connected it to skin color. Here's a series of photos that have circulated around tumblr, riffing off a line from the movie Mean Girls.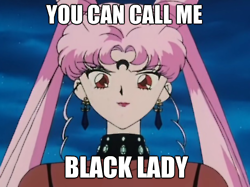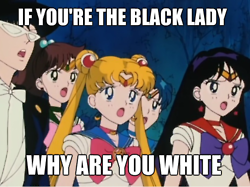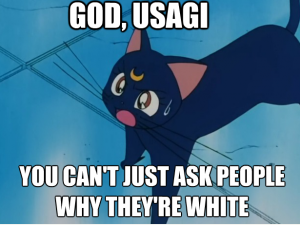 Via tara-senpai
Thankfully, in the English dub, Black Lady is called Wicked Lady. I love how the name Wicked Lady actually highlights what this villain does, instead of associating her with what she may or may not look like.
Now I know what you're thinking–do these changes really matter? It's just a cartoon; it's just a name; people don't actually make the association between these words and actual people! Well, I'm not so sure about that. I've written before about how some people around the world don't look upon "dark" skin positively. These small changes prove that it doesn't have to be a foregone conclusion to associate "bad guys" with words like "dark" or "black." You know, creativity!
This situation reminds of a landmark Supreme Court case in the United States called Brown v. Board of Education. In 1954, the United States Supreme Court ruled that state laws which segregated black and white students into separate schools were unconstitutional. To prove that segregation was harmful to black children's self-esteem (and consequently, their educational success), civil rights advocates conducted what is now known as the Clark Experiment. Created by Mamie and Kenneth Clark, Dr. Clark presented black children with four dolls; one black boy, one white boy, one black girl and one white girl. These children were asked to identify the "nice" doll and the "bad" doll. Many of the children identified the white dolls as "nice" and the black dolls as "bad."
This experiment was dramatized in the 1991 movie starring Sidney Poitier, called Separate but Equal.
While renaming the Dark Kingdom the "Negaverse" or Black Lady, "Wicked Lady," might not solve all the problems in the world, I do think it's a great example of how we can stop associating negative connotations with skin color.