In December 2014, Sailor Moon fan extraordinare Chubby Bunny shared photos from her epic art deco Sailor Moon inspired wedding. Like many Moonies around the world, I was absolutely floored by what she pulled off. I started to secretly plot my own Sailor Moon inspired wedding! In February 2015, my wonderful boyfriend proposed and I was off to the races!
[Warning: This post is looooong!]
Where to Start? AKA Bridesmaid Dresses
Like Chubby Bunny, I knew I wanted to assign a sailor guardian to each of my bridesmaids. Assigning a character to them was easy, but deciding how to incorporate their character into their bridal attire was the hard part!
Should I have each bridesmaid wear their corresponding guardian color? Or perhaps I could have them pick out their own dress? Or, if I did have them wear one color, which color should it be? I knew I wasn't going for a rainbow theme, but perhaps if the dresses were pastel colors, that would work better? A multi-colored pastel palate would remind me of Easter, so I nixed that idea. Of course, I could work in my theme in other ways–in their jewelry and bouquets! I promptly bought those gorgeous Sailor Moon cameo charms with the intent of using them as necklaces.
However, I came to the same problem. What color would tie these charms together and–would it still look like a rainbow? I knew my next problem was that I needed to nail down some colors STAT. I needed to pick an inspiration photo to guide me through this. But which Sailor Moon photo should I use?
Despite my mixed feelings for Sailor Moon Crystal, I absolutely adored the title cards and eye catches from the first season.
However, something was still not quite right. Did I really want to use a peachy-pink color? Did I want to use white lilies for my bridal bouquet? I knew I had to do more research. In the manga, Usagi and Mamoru get married so I decided to look there next. And voila, I found what I was looking for!
This has got to be one of my favorite all-time Sailor Moon images. URGH I LOVE IT SO MUCH! So it was decided–our wedding colors would be lavender and pink with a tertiary color of gold. Now it was just a matter of finding a dress.
I asked my bridesmaids if they had any requests–I wanted to make sure they felt beautiful and comfortable! One bridesmaid was planning to get pregnant and another said she preferred something with straps. With that in mind, I hit David's Bridal. I had one of my bridesmaids try on a few different choices, but ultimately she really loved my first choice: F15208.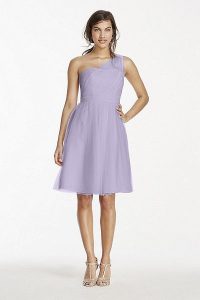 Since most of my bridesmaids have rather pale skin, my Sailor Venus, Koi, suggested that we go with a bit darker color which was called Wisteria. Done! But what to do about jewelry? I knew I wanted them to wear gold shoes and earrings. After a lot of thought, I decided that I would forget about the cameo necklaces and just have them wear the same Sailor Moon compact. Naturally, this would have to be the best Sailor Moon compact ever–the Crisis Compact. And I knew where I would have to purchase these necklaces–Kuma Crafts!
My mom was a little unsure of the Kuma Crafts necklaces, but I showed her some test pictures, which I think made her more comfortable. So if you are thinking about Kuma Crafts necklaces, but you are unsure, look no further and check out these pictures! Don't my bridesmaids look fantastic? Here's a close up of Sailor Mars and Sailor Jupiter:
Flowers, Wands and Compacts, Oh My!
In Chubby Bunny's epic wedding, she carried a gorgeous hand-made cutie moon rod down the aisle while her bridesmaids carried hand-made transformation wands. My crafting skills are pretty poor so I knew making something myself would be too time consuming. I think if you want to use wands for bouquets, you should either make oversized versions yourself or purchase the gashapon wands. That way, these items will take striking pictures. I purchased the wand pointers for part one of my bridesmaids' gift and I think they look a bit lost in photos.
For myself, I thought about using the Proplica Cutie Moon Rod, but ultimately I decided I wanted to carry something more substantial. And of course, what's more shôjo than flowers? Flowers it was–with some Moon Crisis Power!
To match the bridesmaid's necklaces, I purchased three gashapon Crisis compacts. I intended to include all three in my bouquet; however, my florist recommended I just include one. I followed her advice and the bouquet turned out fantastic!
I love how the Crisis compact works so seamlessly in the bouquet. It's hard to believe it's just a plastic capsule toy! I would definitely recommend doing this for any Sailor Moon inspired wedding. I also couldn't help posing with my Proplica Moon Stick too! 😀
As for the extra compact, we attached it to the flower girl's flower ball. My flower girl was super excited about it too! I thought about having her carry the gashapon Chibi Moon Heart Wand as well, but I figured she had enough to carry already. LOL.
I also found a home for those cameo charms I had originally bought. I hadn't known that putting charms and lockets on bridal bouquet stems were a thing, but hey, you learn something new every day! So, the charms went on the bridesmaid bouquets–it was the perfect place for them.
The Cutest Flower Girl
Since my bridesmaids represented the sailor guardians, I knew the youngest female member of our group should represent Sailor Chibi Moon. Sailor Chibi Moon's princess dress from the manga is one of my favorites.
I thought about getting something custom made, but since my flower girl lived out of state, I figured doing something like that would be a pain in the butt. Plus, I had no idea if the dress would turn out as amazing as the image in my head. So, I choose something that evoked this whimsical pink dress. I found the dress I was looking for at mygirldress.com.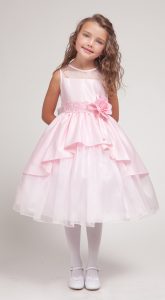 I just love the layered skirt and flower belt! I knew I wanted to incorporate more Mini Moon into this look, but I wasn't sure exactly how to do it. Finally, it occurred to me that the Kuma Crafts Eternal Moon Brooch would work just fine. It might not exactly be a Chibi Moon item, but it was close enough!
Stationary, Stationary, Stationary
Some people think all their stationary items should coordinate. Me, on the other hand, knew there had to be some chibis up in here–and what better way to do that with a Save the Date postcard? I commissioned the amazing artist Sakky to create chibi versions of my fiancé and me as Tuxedo Mask and Princess Serenity. She helpfully provided the Photoshop file of her artwork, so my graphic designer–my bridesmaid Crystal–could add text to it. The font is literally called Sailor Moon! LOL
Since Sakky provided the artwork in two different layers, Crystal (aka Sailor Mars) was able to manipulate the images and transform the Save the Date into a thank you card which we used to thank our wedding guests.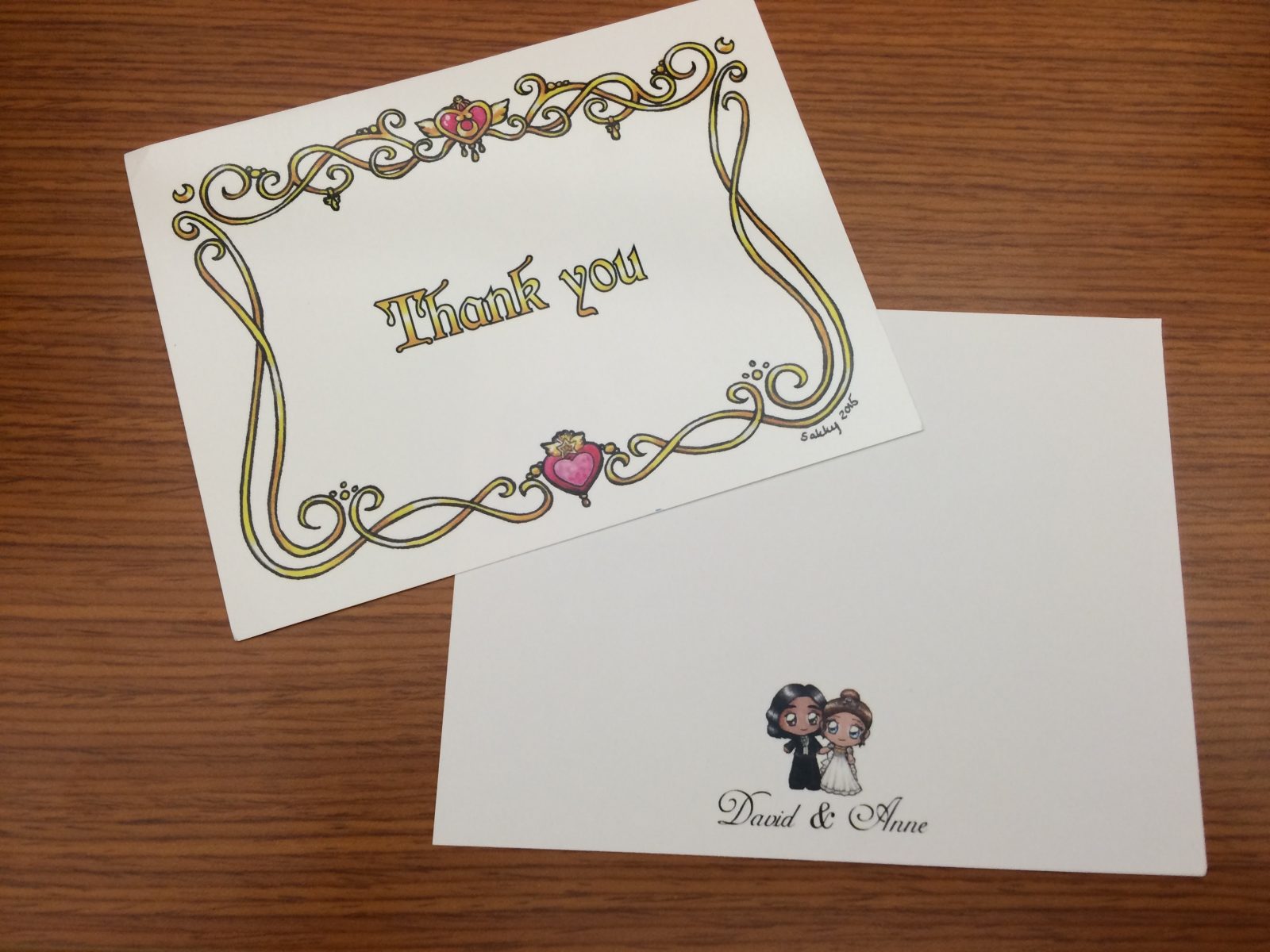 Crystal also offered her graphic design services for the invitation itself. She had designed a beautiful art nouveau invitation for her own wedding so I was looking forward to see what she could do! She did not disappoint!
The Silver Crystal on this RSVP is one of my favorite elements.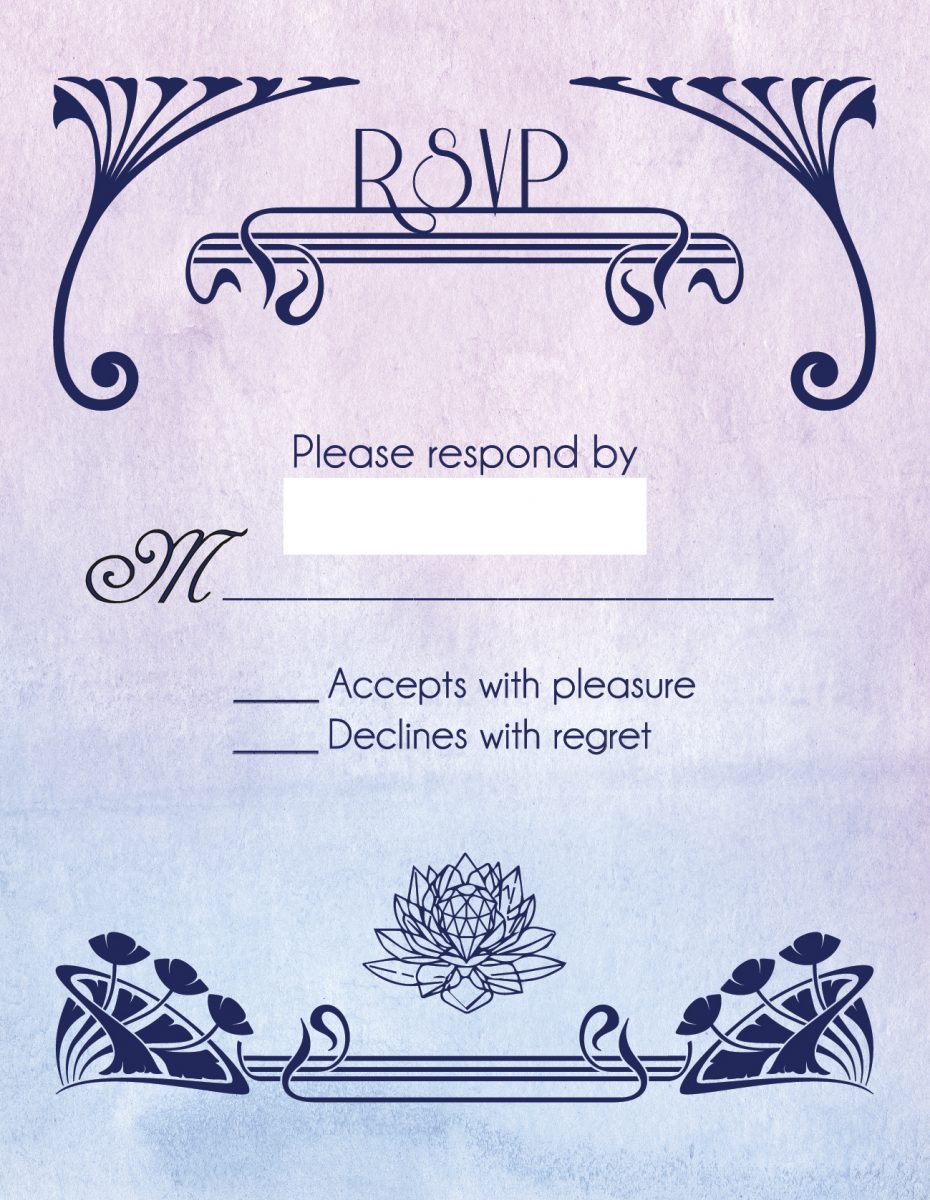 Crystal is a cat lover, so Luna and Artemis became a major motif throughout the wedding. My fiancé also loved this motif!
I originally wanted to something really creative with the table numbers–name them after planets! Name them after Sailor Moon characters! But we figured that people might get confused and we had quite a few tables too. So, we just went with numbers and included Sailor Moon elements in the design. I couldn't decide between the Silver Crystal and the kitties so we went with both. I thought it would be cute to have a the kitties in four different poses–this was probably overkill because who would notice that? Oh well. They are still super cute!
As for the table center pieces themselves, I went with some silver mercury candle holders for half the tables and the other half got a tall clear vase with baby's breath. I wish I could have done something more artistic and custom for the centerpieces, but again, since I lived out of state, I couldn't throw something together at home and drive it to the venue. Additionally, depending on what you want and how many tables you have, things can get expensive real quick. It was also nice to have the florist take care of the set up and take away as well.
For the name cards, Crystal was able to trace the design on one of the boxes from the Anna Sui x Sailor Moon collaboration. Can I tell you how much I love this? I love it soooooooooo much!
For the favors, I found this way cool bottle opener that reminded me of Sailor Pluto's time key. The detail on the top even looks like a crescent moon!
At our sweetheart table, we had our own special wine glasses courtesy of Koi (and Mandarake!)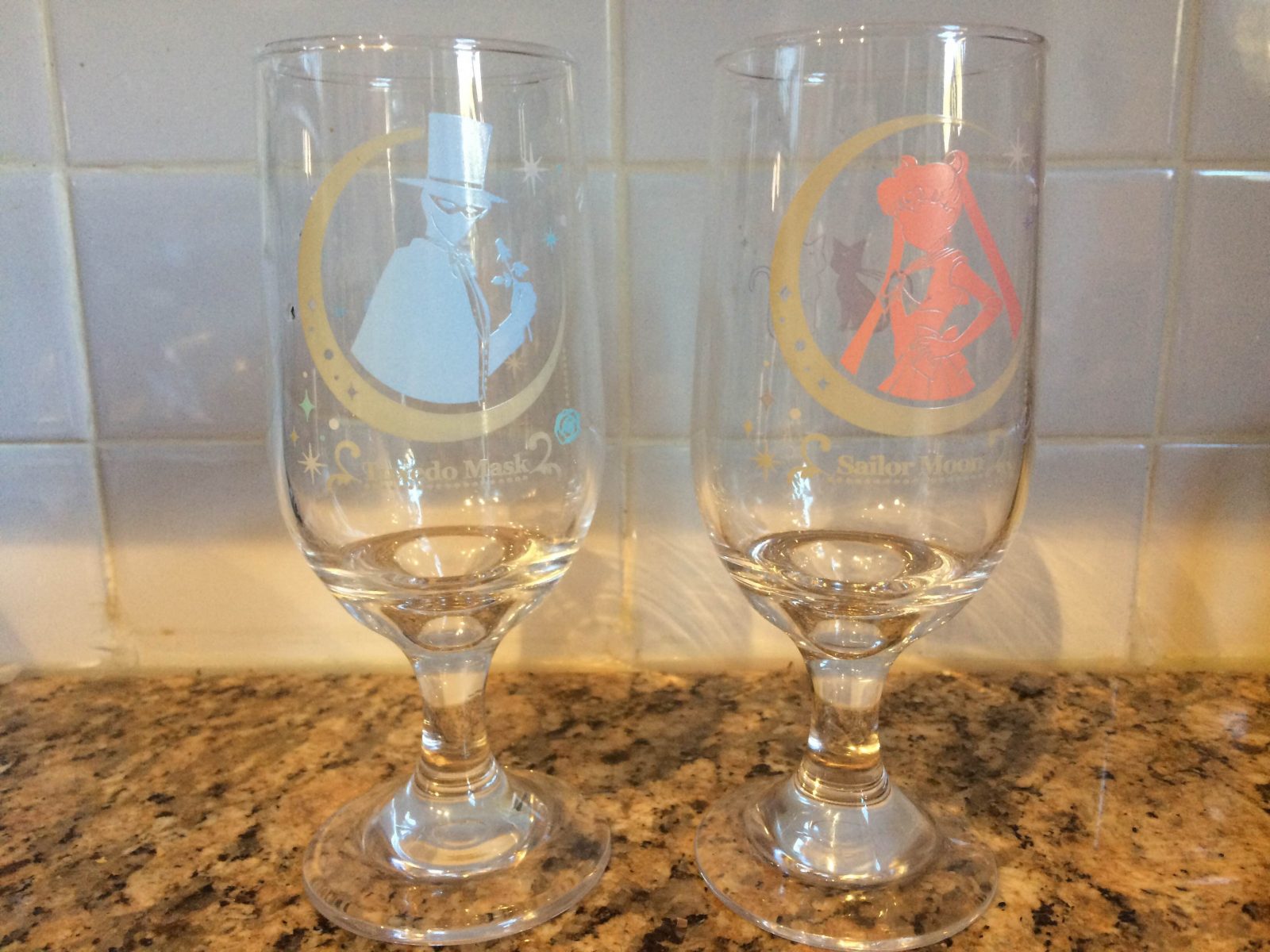 We also had a photobooth at our reception. Koi offered to create some Sailor Moon props. They were a hit! Even the photobooth operator was impressed!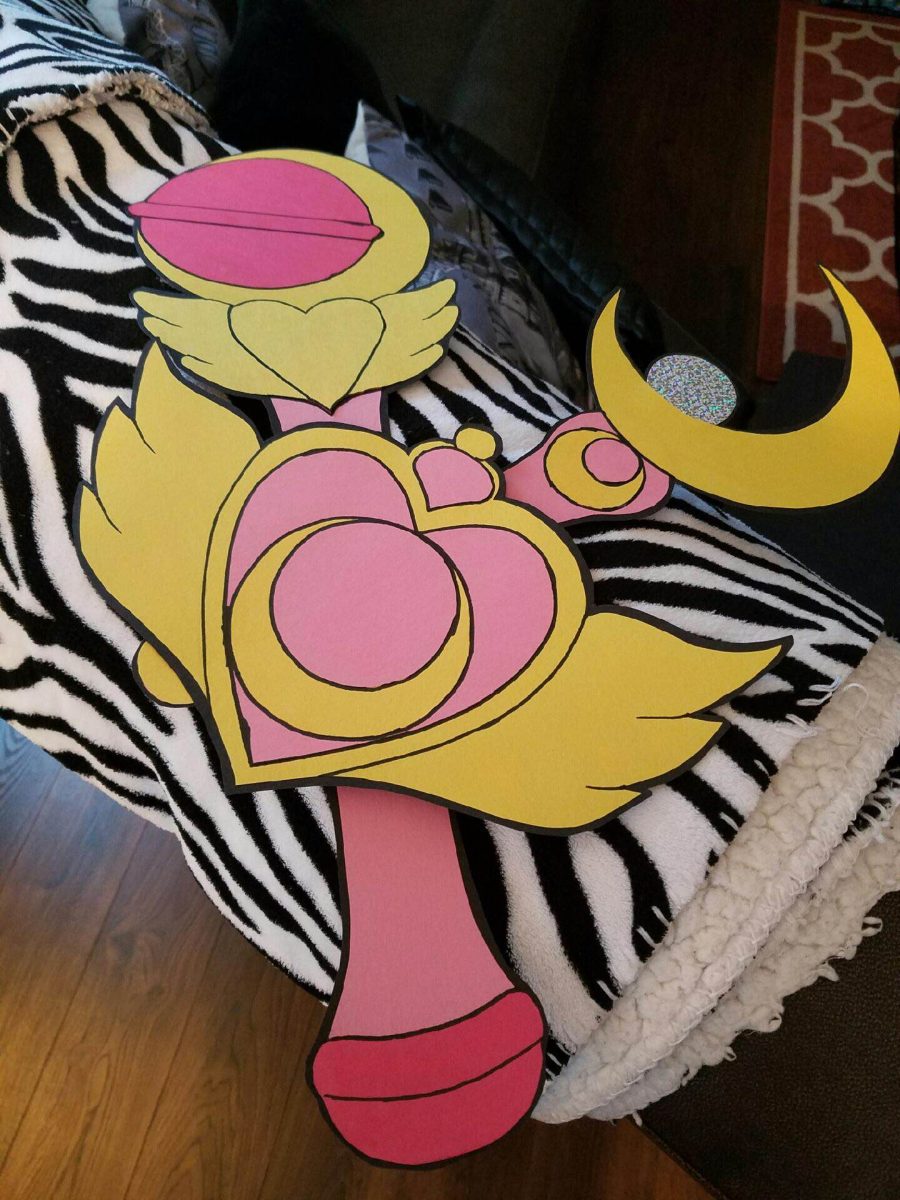 One of the few things I did personally make for the wedding was my card box. I knew recreating one of the compacts would be perfect! However, this project turned out to be more of a pain than I had imagined. I had erroneously thought that spray painting a hat box would be easy–not! Eventually I threw in the towel and just purchased a bunch of pretty scrapbooking paper and glued it on. I gave my fiancé a few design options and he chose Chibi Moon's Prism Compact.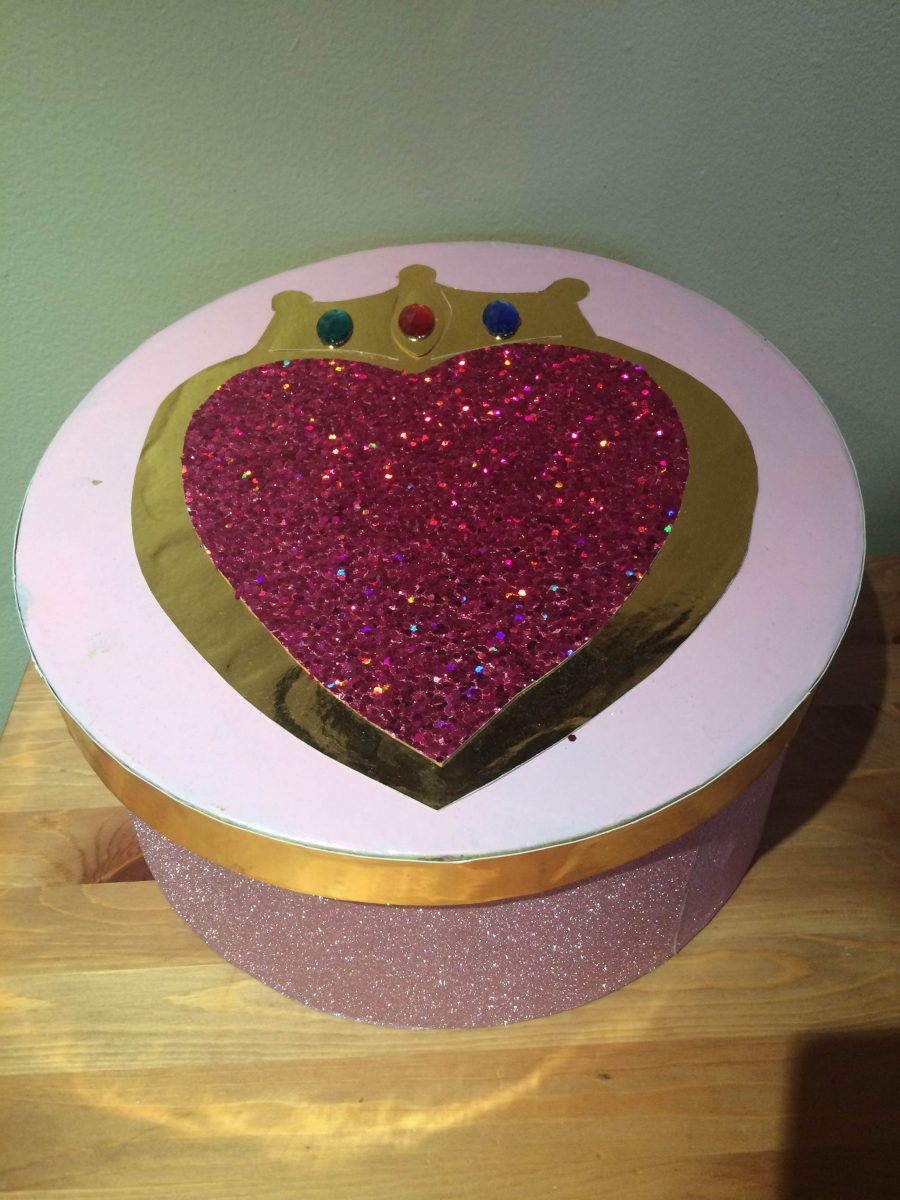 The inside is my favorite part. <3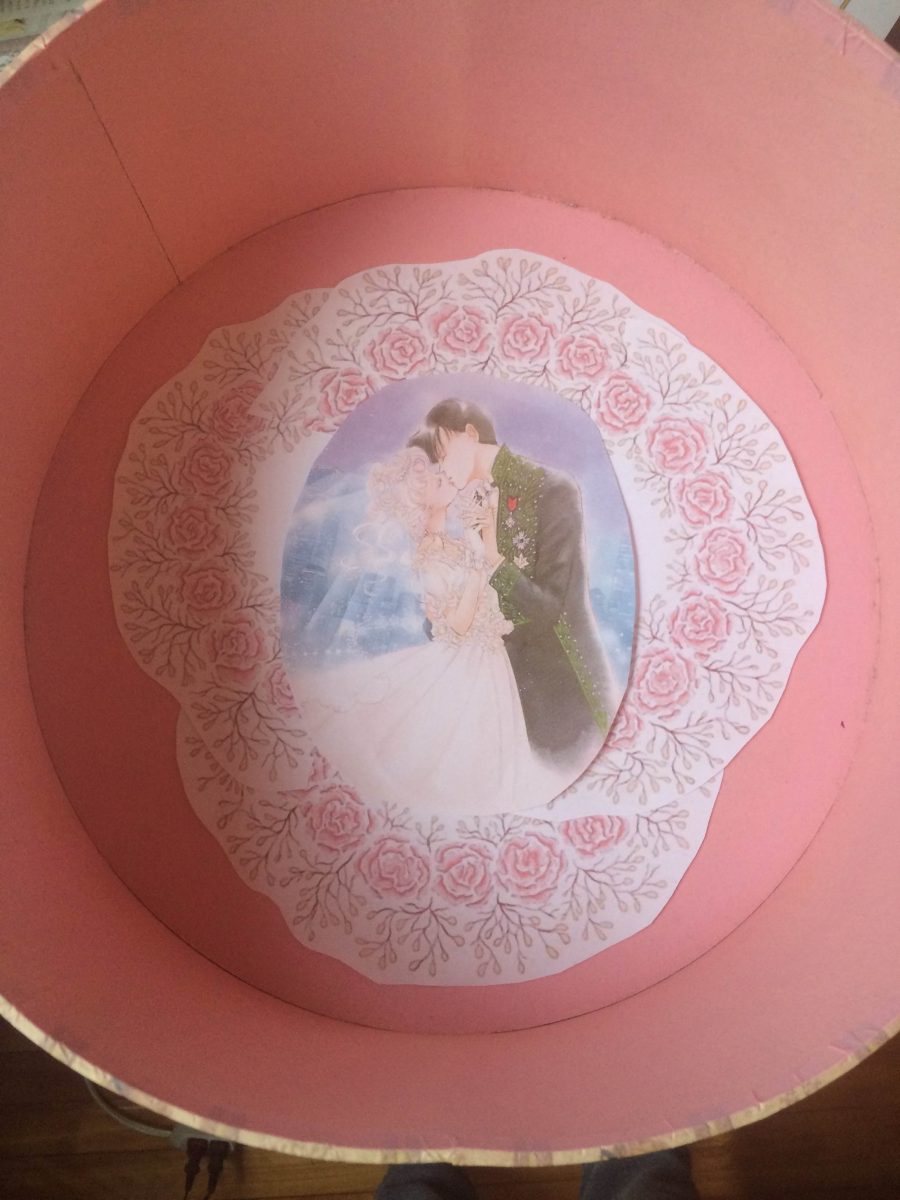 The Cake
There are so many cool Sailor Moon cakes out there, I would have loved to have something completely custom and amazing. However, I also knew that might be hard to pull off, so I settled for a Sailor Moon topper. The cake topper is from DangerousDagger and the delicious French vanilla cake was made by Ryteous Cakes.
Bridal Accessories
A few months prior, I had purchased a bootleg of one of the Samantha Thavasa/Sailor Moon collaboration bags from aliexpress. I would have preferred the larger bag, but the small one worked just fine!
Koi, who is also a huge Sailor Moon fan, was adamant about making me some Princess Serenity shoes. I love the rhinestones on the heels and the bows! The pearls and gold circlets really nail the Princess Serenity look. A shoutout goes to twitter user @EienAi for posting the golden circle trim on twitter and major props go to Koi's mom for finding the gold circle trim at Joann Fabrics!
The Ceremony
Our wedding ceremony was in a Catholic church. At this particular church, we were unable to have secular music during the ceremony. However, we were allowed to have secular music before the ceremony.
We had a violinist and a pianist–and I think these songs turned out beautifully!
For our unity candle, I found all this information on how to decorate candles. I was fully prepared to properly Sailor Moon-ify our candles! But then I thought that might be going overboard and maybe I should have some religious iconography, yes? So I went with a traditional white candle with a cross on it with the usual trappings. It all came together after a trip to Michael's where I came upon a crystal lotus candle holder. What says eternal love more than the Silver Crystal? MUAHAHAHA. My mom then went ahead purchased matching crystal lotus holders for the taper candles from Bed, Bath and Beyond. It's such a beautiful compromise and it pleases me greatly.
But That's Not All!
So, I was off and away planning the best Sailor Moon inspired wedding ever when my fiancé and I decided we should have a small party in New York City. This party would be for friends and family members who lived in NYC and couldn't come to the wedding in Michigan. My future mother-in-law took this idea to heart and was adamant that this party should be a traditional Chinese wedding banquet. And for those of you not familiar with Chinese wedding banquets, this means the bride wears not one, not two, but three dresses! There's a white wedding dress for photos, a red qipao for the tea ceremony and an evening dress at the end of the evening. After getting over my initial shock, I realize that I could incorporate some subtle cosplay into my wedding attire. MUAHAHAHHAA. I was able to rent a red qipao and a pink evening gown from a wedding studio, which gave me the freedom to make my own white wedding dress.
Now, I've sewn a few cosplays, but I can't say I'm the most skilled seamstress ever. I knew I wasn't going to be able to create one of those amazing Princess Serenity dresses with a crap ton of fabric and intricately beaded bodice. I would have to go simple. And what's more simple than the Neo Queen Serenity anime dress design? While I wouldn't have a fluffy dress, this meant I could wear her anime tiara. Can I tell you how much I love her anime tiara??? 😀 😀 😀
I started as every cosplayer does–I scoured the internet looking up images of Neo Queen Serenity cosplayers. And then I found it! A simple yet elegant Serenity dress. I found a pattern in a similar style, Butterick B5325. It's not exactly the mermaid style of the anime, but I figured it was sleek enough that it would work.
For the bodice, I took some inspiration from this Serenity makeup bag. A row of pearls, some white trim and then another row of pearls? Simple and elegant!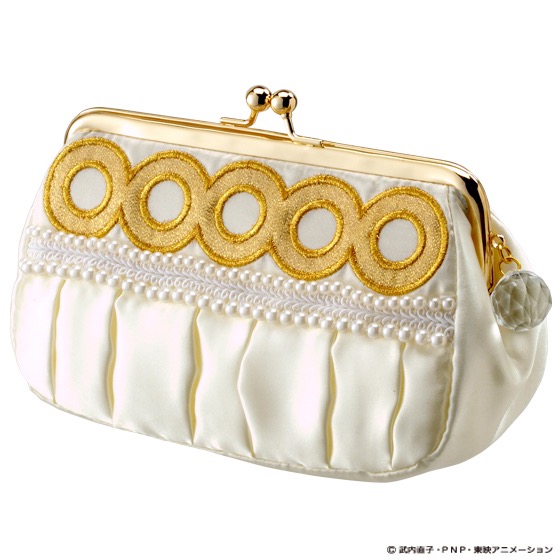 I bought some ivory fabric at $8 a yard from Mood as well as some fabric for the lining costing me about $50.
Unfortunately, my incredibly busy schedule got the best of me and I didn't think I could finish the dress before the party. Koi came to my rescue and finished it up for me. This is why she's my Sailor Venus!! Thanks also needs to go to @EienAi again because we used that gold circle trim on the dress as well!
Next, I needed some earrings and thankfully Premium Bandai had already released these beautiful Princess Serenity earrings. I paid waaaaaaaay too much money for them, but I love them.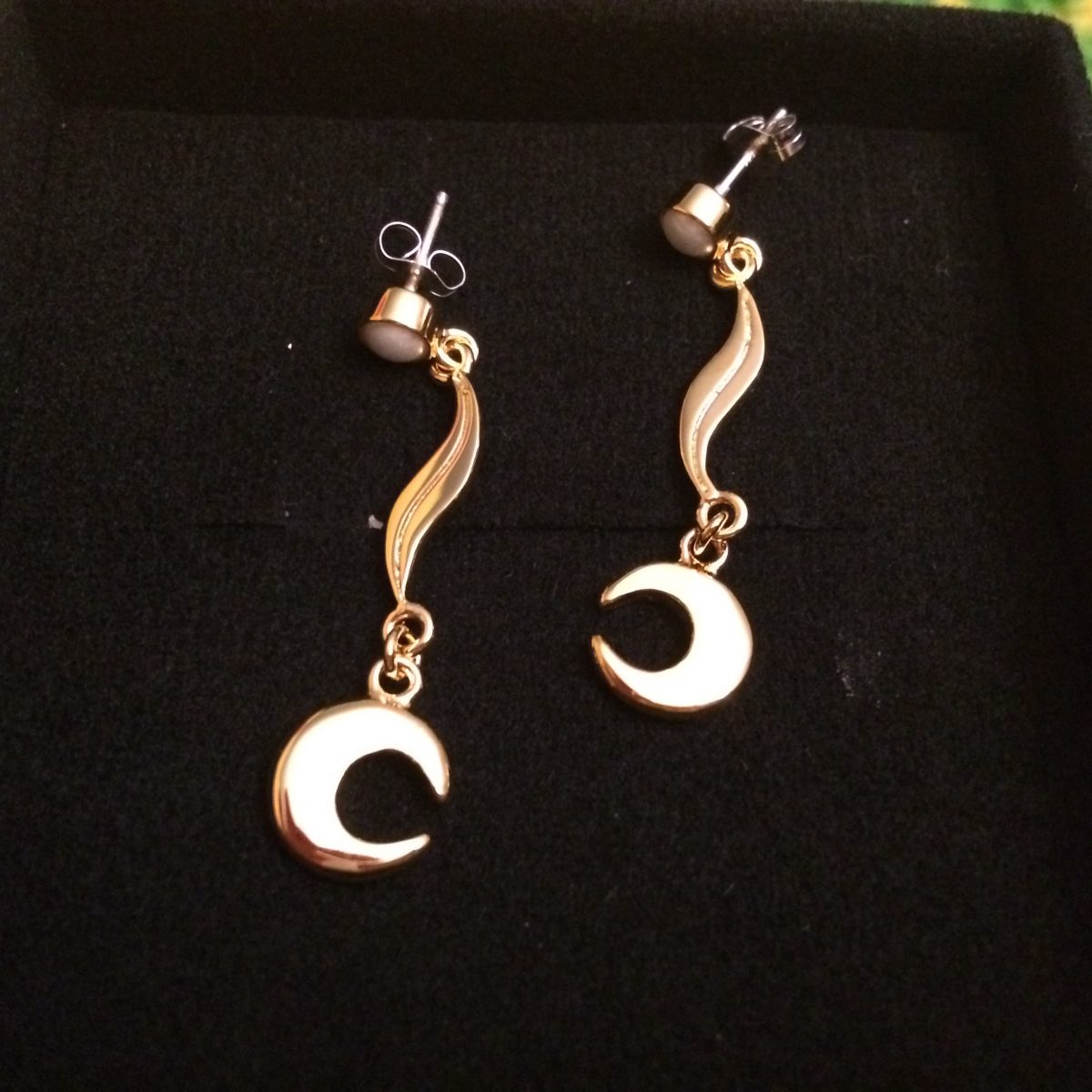 And of course, I would need the Neo Queen Serenity tiara. Obviously, I couldn't wear the Bandai toy and the official wedding tiara was way too expensive. I needed to commission a tiara from an artisan. I reached out to one lady who did Renaissance tiaras, but she seemed rather confused as to what I was asking, so no luck there. Then Sakky recommended the artist Seralune.
At that point, Seralune didn't have any tiaras in her shop, but from looking at her intricate and elaborate necklaces, I knew she could pull it off. But more than that, Seralune is a *huge* Sailor Moon fan and nothing puts me as ease than working with someone who loves Sailor Moon just as much as I do! She presented me with two designs–one that was a straight replica of the Serenity's tiara and another that was done in Seralune's personal style. I was a little worried that the replica would just be a mass of gold on my head whereas in Seralune's design, she opened up the tiara a bit. Also, I believe if you are going to buy something from an artist, you should go with what they do best! So, I went with Seralune's style–and I'm so happy I did!
I totally wanted to wear this around the house while I clean, but Seralune sent strict instructions that this was for party wearing and not for lounging about the house! LOL The tiara is gold plated brass and the red stone is zircon.
So here is the complete look! Sorry it's in the backroom of the banquet hall. LOL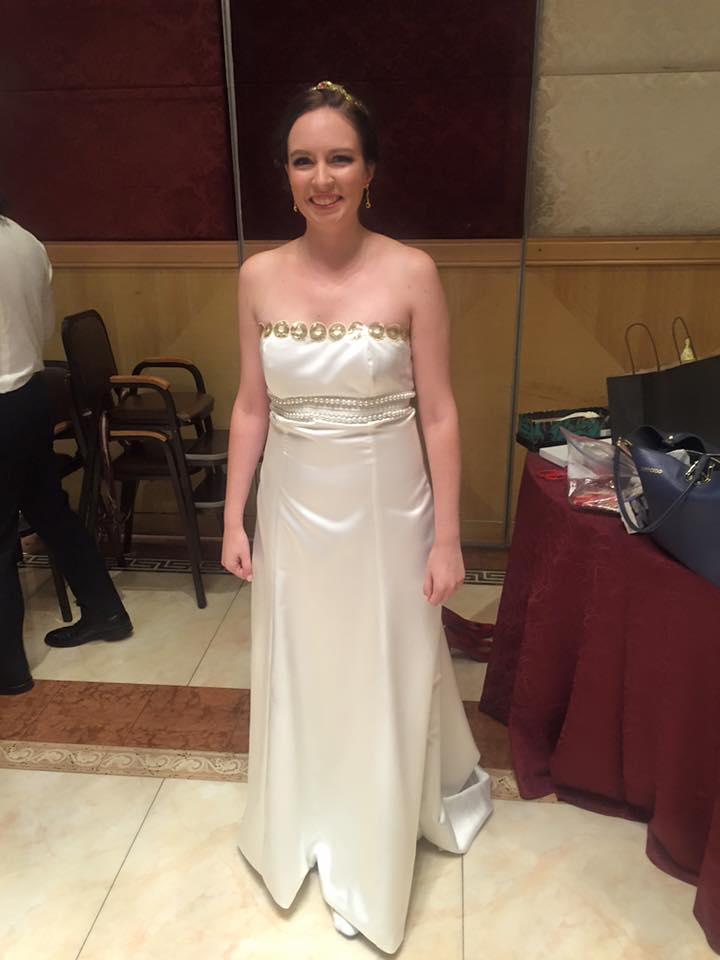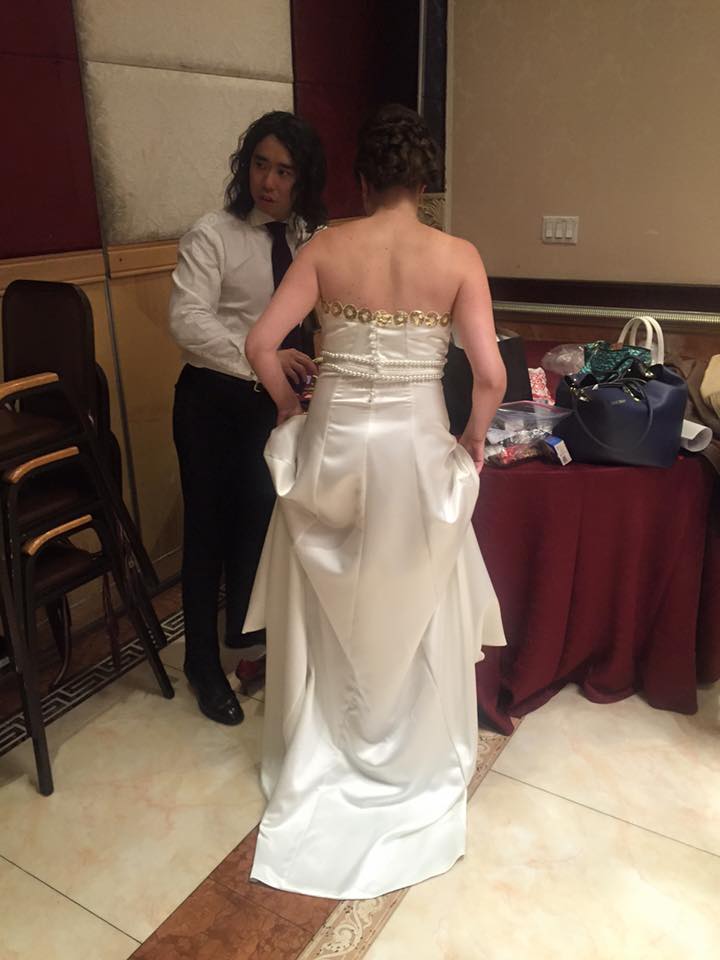 You can't really see the train in this picture, but I absolutely love the train on this dress.
Even the real Tuxedo Mask loved it too!
The gold tiara and earrings also looked great with the red qipao!
And I know you're all curious as to the evening dress, so here you go!
In Conclusion
Yhew! There you have it! My Sailor Moon inspired wedding! Overall, I'm incredibly pleased at how everything turned out. If you are thinking about having your own Sailor Moon inspired wedding, I definitely recommend to start planning now. Weddings are logistical nightmares so if you want to do anything custom or different than the usual traditions, it will take 10 times as much time and effort. I used to pride myself on not being that girl who had her whole wedding planned before she even had a partner, but no–the earlier the better!
On the positive side on things, having a theme will definitely help you make decisions. You'll have a myriad of ways to implement your theme so if one idea doesn't work out, you'll have plenty of other opportunities to incorporate it elsewhere. I also highly recommend using pictures with your vendors to show them what you like and don't like. It's the quickest and easiest way to show them exactly what you want.
I hope my wedding has inspired you–please feel free to steal these ideas–just promise me you'll share your pictures with me? 😀
Finally, I can't thank the people who made this happen enough! Major thanks goes to my bridesmaids Crystal and Koi. They really made my Sailor Moon wedding dreams come true! I'm also so grateful to artisans Sakky, DangerousDagger, Kuma Crafts and Seralune. I'm so happy the internet allowed me to find you guys! Deep thanks also goes to Viviano Flower Shop, Studio 41 Photography and my church musicians for making this happen even though they had no idea what Sailor Moon was.
Moon Wedding Power!